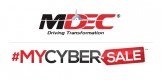 The biggest online sale in Malaysia #MYCYBERSALE is back for the 5th time and will kick off
from 3rd to 7th September 2018!

HI MERCHANTS! REGISTER NOW BEFORE 31 JULY 2018
As a merchant, you will benefit from #MYCYBERSALE:

FREE registration.
Increase exposure from the larger target market as #MYCYBERSALE event reaches beyond Malaysia to regional shoppers.
Receive FREE marketing from your preview banner & sale banner displayed at #MYCYBERSALE website during the 5 days event.
Increase web traffic as #MYCYBERSALE link the online shoppers to your website.
Increase new customer and revenue.
Usage of #MYCYBERSALE logo in all your promotion/marketing kit.
Enjoy great rebates from our enabler partners.

Friendly Reminder,
First Online (M) Sdn Bhd
www.firstonline.com.my
607-3530011