FAQ
What is First Online eHotel?
First Online eHotel (eHotel) is an innovative, powerful yet cost-effective web-based Hotel Front Desk Management Software with an integrated online booking system, and CMS Hotel website. This is a complete solution that truly merges the sales and operational side of a hotel into a single easy-to-use system.


What is a web-based solution?
Web-based means the software is accessed over the internet and all you need to use it is any computer with a browser (e.g. Internet explorer, Firefox etc.). This means there are no servers, databases or complex applications to install at your end. All will be taken care of by the solutions provider. This saves you money, time and headaches. In addition to that, software updates will be done in the central server so that you can rest assured your software is always up-to-date.
Why would hotels want direct bookings?
Statistics and trends have shown online shopping is on the rise. The same happen to travel and hotel industry whereby people prefer to make booking directly on official hotel websites, bypassing travel portals, although they still logon to travel portal merely for price comparisons.

When a guest books directly on the hotel's website, the hotel stands to earn more money and gains guest's loyalty. The more bookings done through the official hotel website, the better the return on the investment the hotel made.


How long does it take to start using eHotel?
A hotel can be empowered by eHotel software on its official hotel website within 10 business days from the date of confirmation order, provided that the hotel has furnished with all the information requested on-time. For hotel operators who have yet applied for any payment gateway merchant in order to accept online payment, we will provide necessary assistance. However, the final approval decision is subject to bank / payment gateway provider.
How does a hotel know if a guest has made a reservation?
Every time a reservation is made, modified, or cancelled, the backend of the hotel reservation system will automatically generates an email notification to hotel admin (or those in-charged in online booking). In addition to the email notification, the backend system logs all the reservations, including guest's personal details and the room reservation details.


Can guests modify or cancel his/her reservation?
Yes. A guest can cancel their reservations within the limits of the hotel's Cancellation and No-Show policies online. It is as easy as login into Guest Panel and clicks the cancel button.

A guest can also make modifications (changes in her/his reservation, including length of stay, dates, number of rooms, and room types) by contacting admin, but subject to rooms availability, and within the limits of the hotel's Cancellation and No-Show policies.
Can guests get cheaper rate if they book early (Early Bird)?
Yes, if the admin enable this function, guest will get cheaper rate if they make their booking early or any dates within pre-defined configuration.
**This function is available in Premium version, or you can upgrade from Starter/ Standard version.


Why some hotel software is very cheap?
Take a closer look at eHotel. It is not merely a hotel management system, but includes an integrated internet booking engine and CMS hotel website. So the question is not about the cost per se but rather the functionality that will benefit the hotel operators to increase business profits. Also do keep in mind that the level of automation of eHotel is capable of. Automating tasks as much as possible will reduce mistakes at the same time, it increases productivity. That will translate into huge savings in terms of times, money and labour costs.

Based on our recent survey in the current market, the all-in-one hotel software (with comparable to eHotel in terms of features and functionality) are at least triple if not more expensive than eHotel.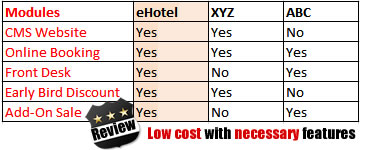 Can I sell airport transfers or day tours in addition to the room?
Yes, eHotel Optional Extra (Add-on) feature allows a guest to book additional services after they have selected accommodation of choice. Operators can add practically any extra services like Extra Bed, Buffet Dinner, Karaoke and etc.
Does using eHotel online payment facility helps to increase hotel revenue?
Surveys show that when a guest pays a full payment on a reservation, the incidence of no-shows drops to almost next to zero (0%) & therefore, lessens the risk for the Hotel.

That is practically taken care of by eHotel. In addition to that, eHotel software allows admin to charge a guest on cancellation and no-show penalties in accordance with the hotel's cancellation and no-show policies.

No other reservation system that we have researched so far offers this feature which is important to minimizes the reservation risk to the hotel operators.